Solar Spot Lights Outdoor 2-in-1 Solar Landscape Powered Security Waterproof Lights for Walkway Yard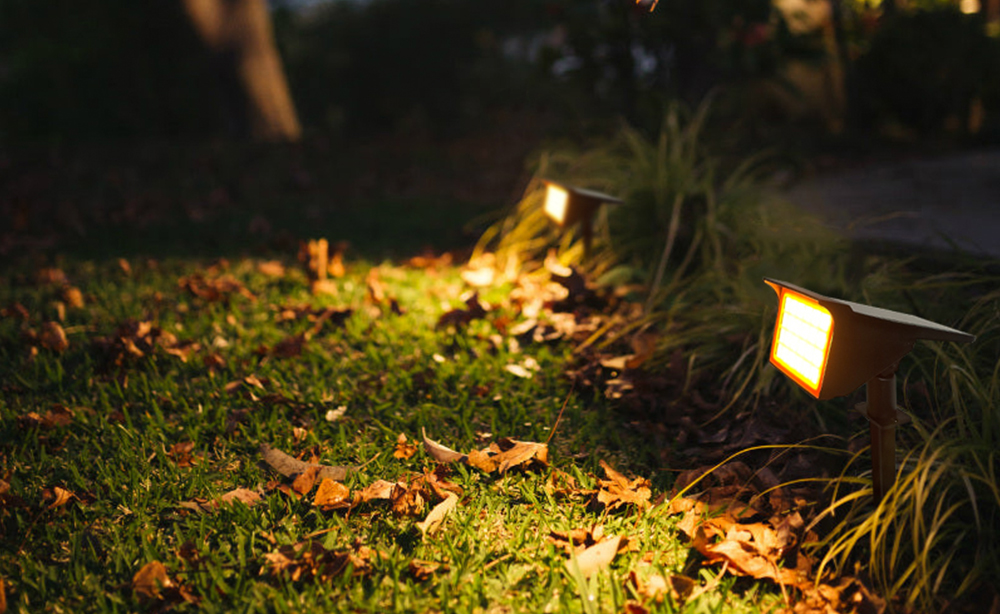 Compared with other garden lights with wires, Luxcruz solar landscape lights provide great convenience.
Only need 5 minutes to assemble and insert them on the grass, plant landscape trees and stone paths in the garden,
light up your warm home and make it full of active atmosphere.
Working Mode: 30%-100%-30%10%
Working Time: 6-15 Hrs
Installation: Ground Insert/Wall-Mount
Dark Sensing Auto On/Off
IP65 Waterproof & Dust-proof
Light mode: 4 light modes
Battery capacity: 3.7V/1800mAhLithium Battery
Working temperature: -10℃-45℃/-50℉-113℉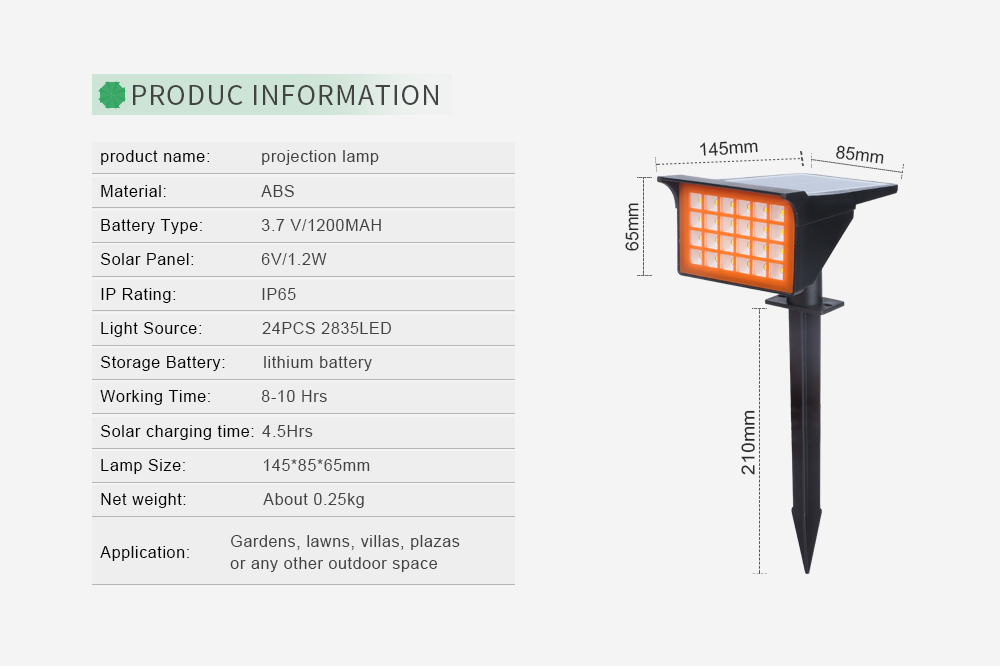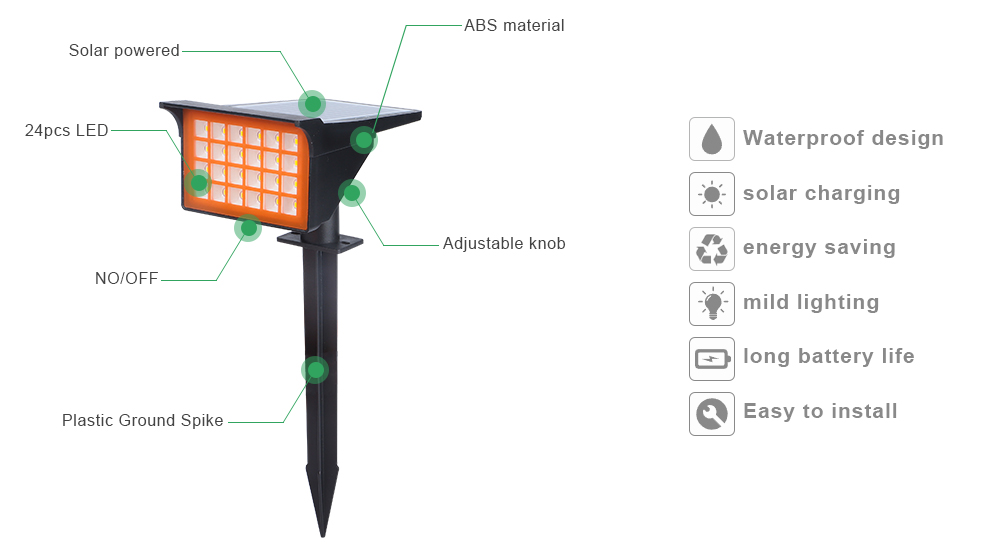 How To Better Use These Solar Garden Lights Solar Powered Waterproof?
1、A full charge requires up to 8 hours of sunlight in mounting location for this Solar Powered Security Lights.
2、It's recommended to install the solar lights outdoor spotlight in outdoor places away from shade caused by trees, building and etc., so that it can ensure they absorb enough sunlight.
3、If it has been rainy or short of enough sunlight for several days, the solar light driveway might not light up at night or the lights are dim, due to lack of power. Please charge them at least 8 hours when the sun comes out.
4、Make sure the black light spotlight outdoor is kept at a certain distance from other lights, and avoid installing it under street lights, otherwise the light will not automatically light up at night.
5、In rainy or winter days, insufficient solar absorption will directly affect the brightness and working hours.
6、 The default mode of the product is Off mode. Press back button to turn on the light when using the product.
7、if you want to check whether the solar light outdoor garden can work normally or not, please turn it on by pressing the back button, then cover the solar panel with your hands in the daytime Or put it in a dark.
8、If the lighting time shortens after the solar patio lights has worked for a period, check whether the solar panel is covered with dusts and clean it regularly
9、When the solar yard lights is not used for a long time, in order to maintain the function of the battery, it is best to comprehensively charge the product once a month in a sunny place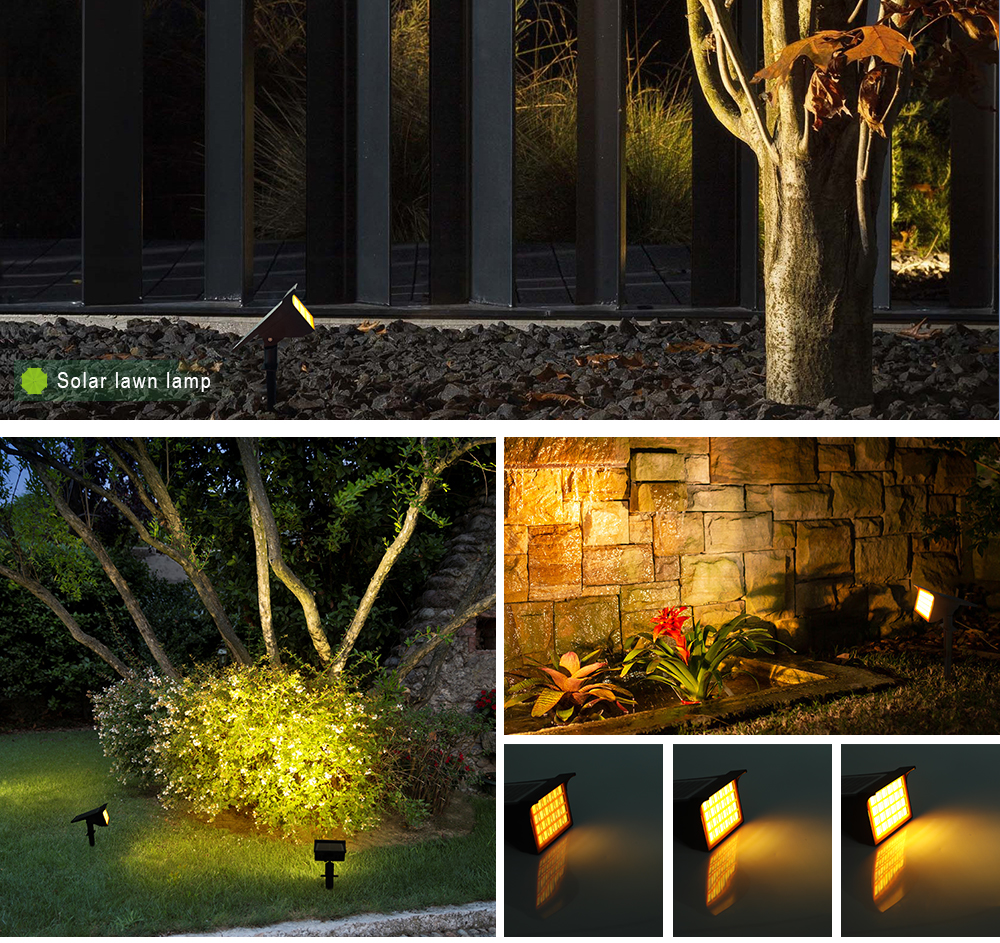 Solar Outdoor Waterproof Landscape Spotlights Attention:
A. Keep the solar panel clean for fast charging.
B. Avoid blocking by leaves or dust, which will affect the charging quality.
C.10 a.m to 4 p.m is the best time for solar panel charging.
D. The lamps are waterproof but not prevent water-soak, avoid installing in places of waterlogged easily.
E. Ensure direct sunlight on the solar panel to ensure continuous charging.
F. Keep away from blocking obstacles, buildings and plants.