Solar Lawn Lights: Eco-friendly, Energy-saving, and Practical Lighting Equipment
With the increasing awareness of environmental protection and sustainable development, solar lawn lights have become increasingly popular as an eco-friendly and energy-saving lighting device. It uses a solar panel to charge during the day, automatically stores electricity under the sun's effect, and illuminates the lawn at night to facilitate people's passage, gatherings, and other activities. This article will provide a detailed introduction of the working principle, advantages, usage, and market prospects of solar lawn lights.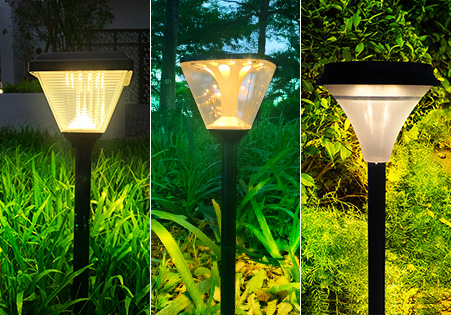 Working Principle
The working principle of solar lawn lights is quite simple. Its main components include a solar panel, capacitor, control circuit, and LED light-emitting diode. During the day, the solar panel absorbs sunlight, converts the energy into electricity, and stores it in a capacitor. At night, the control circuit senses changes in light intensity, turns on the LED light-emitting diode, and provides illumination.
Advantages
Compared with traditional lighting equipment, solar lawn lights have several advantages:
Eco-friendly & Energy-saving: Solar lawn lights use solar energy as their power source, so they do not need external power supply and consume no fossil fuels, resulting in zero CO2 emissions.

Convenient Installation: They do not require electric wires or cables, instead, they can be inserted directly into the lawn.

Long Service Life: Solar lawn lights usually use high-quality LED light beads, with a lifespan of more than 5-10 years, and do not require regular battery replacement.

Low Maintenance Costs: Due to its wide range of applications, maintenance costs are relatively low. Moreover, since its service life is long, the repair frequency is also relatively low.
Usage
Solar lawn lights are very easy to install and use. Here are the specific steps:
Choose a suitable location: Solar lawn lights need to be fully exposed to the sun, so the installation location should be selected in an open area without obstructions.

Install solar lanscape lights: Insert the solar lawn lights directly into the lawn, no tools required.

Charging: Before first-time use, please make sure the solar lawn lights are fully charged. Generally, solar lawn lights need to be continuously charged for 6-8 hours.

Usage: When the light intensity is weak at night, the solar pathway lights will automatically turn on. During the daytime, when the light intensity is strong, the solar lawn lights will automatically switch off.
Scope of Application
Solar garden lights are suitable for different places such as homes, parks, commercial plazas, etc. They can create a safe and beautiful lighting environment for people, while contributing to sustainable development through their eco-friendliness and energy efficiency.
Market Prospects
With the continuous improvement of environmental awareness, solar lawn lights have broad market prospects as an environmentally friendly, energy-saving lighting device. At present, many domestic and foreign companies have begun to develop and produce solar lawn lights, and market competition has become increasingly fierce. In the future, with the advancement of technology and the decrease in prices, solar lawn lights will become more popular and an important member of the lighting industry.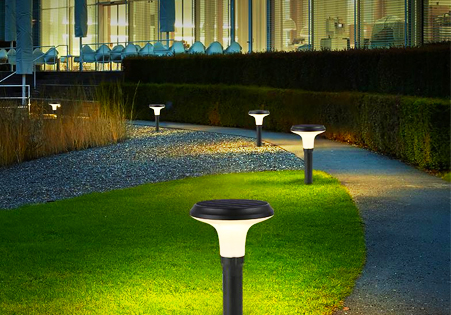 Conclusion
Solar lawn lights, with their eco-friendliness, energy efficiency, and practicality, have gained increasing popularity. Through this article's introduction of the working principle, advantages, usage, and market prospects of solar lawn lights, we can see their essential role in the context of sustainable development. As consumers, we should actively participate in the ranks of environmental protection and energy conservation, promote the application of solar lawn lights, and contribute to building a beautiful home and city.